1. Babies are often uncooperative/crying; it may be difficult to ascertain perfect images.
2. In younger/smaller patients (< 30 kg) a high-frequency linear transducer provides the best images.
The figure below shows the empty antrum of children (RLD) using a high-frequency transducer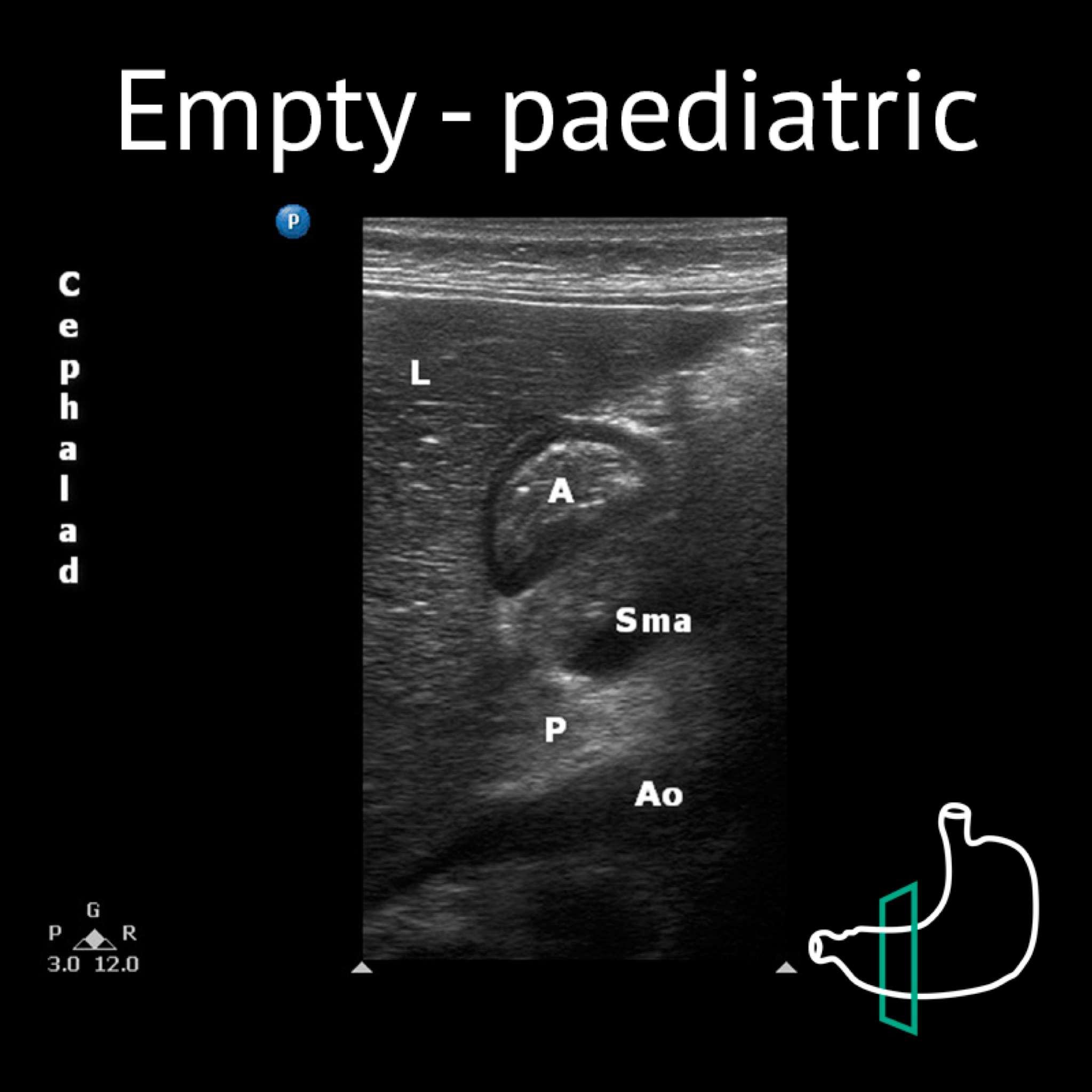 3. In older/bigger children, a low-frequency curvilinear transducer may be required

An 11-year-old patient (23.2kg, 1.28 mL/kg of fluid). The antrum appears empty in supine position and distended with hypoechoic content in the right lateral decubitus (RLD), consistent with a grade 1. (Picture below)

Legend: Ao: aorta A: antrum; C: colon; L: liver; P: pancreas; Sma: superior mesenteric artery; Yellow arrows: antrum

2. GASTRIC VOLUME ASSESSMENT
Gastric volume may be calculated based on antral CSA and the patient's age 
The following model has been developed for children based on a cohort of 100 fasted children between the ages of 11 months and 17 years old


VOLUME = -7.8 + (3.5 X RLD CSA) + (0.127) X AGE (MONTHS)

The upper limit of normal fasting volume in children is 1.1–1.2 mL/kg
A similar 3-point grading system as described for adults (link) can be used 
Higher grades correlate with higher volumes
3. NEONATES AND PYLORIC STENOSIS

Gastric PoCUS allows us to ensure an empty stomach prior to induction and has a clear impact on anesthetic management.


Have an interesting case to share where gastric ultrasound made a difference to you or your patient?
Selected cases will be posted
Sources will be acknowledged
Please, mail your cases to edu@gastricultrasound.org